Rice Pudding with Fir Flavours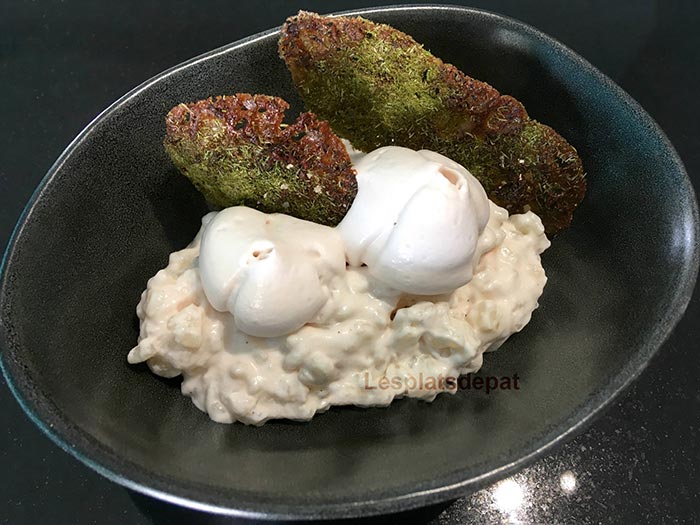 ROOF TILES INGREDIENTS
RICE INGREDIENTS
70 g round rice for pastry

15 cl of cold 30% fat liquid cream

4 tablespoons of Fir syrup
Mix all the ingredients in a bowl (salad bowl).

Put the preparation in a piping bag.

Make well-spaced dots and lines on a sheet of baking paper on a baking sheet (be careful when cooking it will spread out!).

Bake in a hot oven at 200° for 8 minutes.

Take out of the oven and let cool dowm. Peel off the paper with a spatula.

Sprinkle with fir pepper.
Heat the milk and the sugar with the vanilla pod split in 2 lengthwise.

Pour the rice into the milk, stir, cook for about 40 minutes on low heat.

Drain the rice if there is still milk left, refrigerate the rice to cool it down.

Beat cold cream, add fir syrup, beat to mix.

Mix the rice with half of the fir whipped cream.
Put the rest of the whipped cream in a pastry bag.

Place rice in fir syrup on a plate or cup.

Make a point of whipped cream on it. Plant one or two tiles of fir pepper nibs in the rice.